Academic Staff
Research Focus
The focus of research is on the development of methods and processes for the simulation and optimisation of complex systems and computer-aided processes in product development. Key aspects and subtopics are:
Coupled simulation and optimisation methods
Structural optimisation
Lightweight design
Multiphysics
CFD flow simulation
Robust design
Research Approach
Due to the often very complex interactions in real systems, numerical approaches for the description of these systems by individual standard tools are no longer to be used.
By coupling methods, efficient tools can be created that are solutions of these complex problems and thus support the product developer in the design synthesis.
Examples for coupling methods
Structure optimisation taking into account production restrictions
Multiphysical structure simulation with wear simulation
CFD with thermomechanics
Service Offer
We are your contact for questions concerning the design, dimensioning and optimisation of components and systems.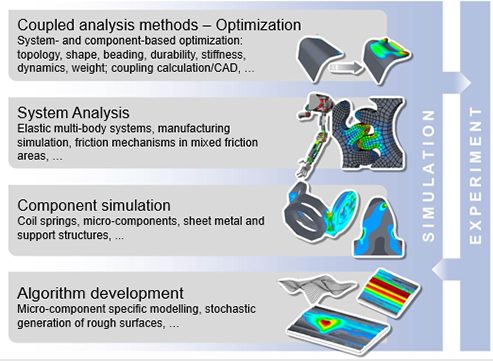 We develop customised simulation and optimisation tools for you.
The tools developed are based on established and commercially available methods, which ensure good software availability and short employee training periods.
Thanks to virtual product development, we create sophisticated and innovative products together with you.
For the validation, IPEK can rely on modern test benches, high-quality measurement technology and experience.
Equipment
Hardware
IBM X-Series 3650 Server (two Intel Xeon SixCore, 120 GByte RAM)
Fujitsu server PRIMERGY (two Intel Xeon TenCore, 512 GByte RAM)
Access to the InstituteCluster II of the Steinbuch Centre for Computing (SCC)
Software
Finite element method: Abaqus, Ansys, Altair Hyperworks, LS Dyna...
Multibody simulation: ADAMS, MatLab/Simulink
Optimisation: TOSCA, OptiStruct, Dakota, MatLab, …
CAD: PTC Creo
Theses
Current bachelor and master theses of the research group can be found here.
Selected Publications
Albers, A., Spadinger, M., & Wagner, D. (2015). Ein Beitrag zum automatischen Packaging von Energiespeichern in einer frühen Phase des Produktentstehungsprozesses. In Daniel Roth Wilhelm Bauer B. B. Hansgeorg Binz (Ed.), Stuttgarter Symposium für Produktentwicklung 2015
Spadinger, M., & Albers, A. (2015). Iterative Coupling of Flow Simulation and Topology Optimization for long-fiber-reinforced Plastics.
Albers, A., Reichert, S., Lorentz, B., Knoll, G., & Lang, J. (2015). Untersuchung des Reibungsverhaltens von geschmierten Kontakten unter Berücksichtigung verschiedener Gleitbedingungen mit Hilfe der Finiten-Elemente-Methode. In 56. Tribologische Fachtagung. Gesellschaft für Tribologie e.V.
Reichert, S., Lorentz, B., & Albers, A. (2015). Influence of flattening of rough surface profiles on the friction behaviour of mixed lubricated contacts. Tribology International
Troll, D., Speck, I., Horsch, J., Weber, P., & ALBERS, A. (2015). A Method for Robust Rib Optimization of Long-Fiber-Reinforced Composite Parts with Varying Material Properties. In NAFEMS Seminar.
An overview of all IPEK publications can be found here.