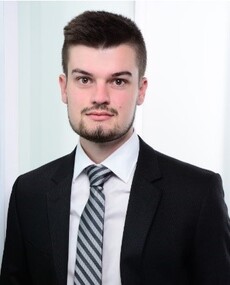 M. Sc. Philip Müller-Welt
Philip Müller-Welt M. Sc.
Field of Research
Application-specific battery system development - format, material and quantity flexible battery cell production

Fuel cell development and production
Bachelor- / Mastertheses
Available bachelor- and master-theses can be found here.
Publikationen
2022
Development of a Parallel Product-Production Co-design for an Agile Battery Cell Production System
Ruhland, J.; Storz, T.; Kößler, F.; Ebel, A.; Sawodny, J.; Hillenbrand, J.; Gönnheimer, P.; Overbeck, L.; Lanza, G.; Hagen, M.; Tübke, J.; Gandert, J.; Paarmann, S.; Wetzel, T.; Mohacsi, J.; Altvater, A.; Spiegel, S.; Klemens, J.; Scharfer, P.; Schabel, W.; Nowoseltschenko, K.; Müller-Welt, P.; Bause, K.; Albers, A.; Schall, D.; Grün, T.; Hiller, M.; Schmidt, A.; Weber, A.; Biasi, L. de; Ehrenberg, H.; Fleischer, J.
2022. Towards Sustainable Customization: Bridging Smart Products and Manufacturing Systems. Hrsg.: Ann-Louise Andersen, Rasmus Andersen, Thomas Ditlev Brunoe, Maria Stoettrup Schioenning Larsen, Kjeld Nielsen, Alessia Napoleone, Stefan Kjeldgaard, 96–104, Springer International Publishing.
doi:10.1007/978-3-030-90700-6_10