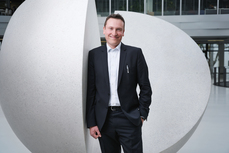 Univ.-Prof. Dr.-Ing. Tobias Düser
Head of Institute

Institute of Product Engineering -  Chair of Product Engineering and Drivetrain Systems

office hours:

by appointment

room:

801, Geb. 10.23

phone:

+49 721 608 42378

tobias dueser∂ kit edu
Univ.-Prof. Dr.-Ing. Tobias Düser
Profile
Univ.-Prof. Dr.-Ing. Tobias Düser, born in 1979, has been head of the IPEK - Institute of Product Engineering at the Karlsruhe Institute of Technology (KIT) since October 2022.
After his studies at the Karlsruhe Institute of Technology and subsequent doctorate at IPEK - Institute of Product Engineering, Tobias Düser held various positions within the AVL Group in the field of innovative development and validation methods. In particular, he worked on novel automation and simulation solutions for test benches. Among other things, he was involved in the development of a new business area, the product portfolio and partner network in the area of Advanced Driver Assistant Systems as well as for Automated Driving. He was a member of the global ADAS/AD leadership circle and also intensively involved in global strategy development.
From 2015, he was responsible for the Advanced Solution Lab at AVL and head of the Karlsruhe branch office. In 2020, he additionally assumed global responsibility for ADAS/AD Virtual Testing Solutions. Tobias Düser and his team worked on virtual and XiL-based validation methods for the validation and testing of Advanced Driver Assistant systems as well as for Automated Driving.
Furthermore, he participates in various working groups such as IAMTS or UNECE.
https://www.linkedin.com/in/tobias-düser-33597488
https://www.researchgate.net/profile/Tobias-Dueser
Research
Rapidly advancing digitalization, which is being accelerated by the current effects of the Corona pandemic, is heralding a radical change for business and society.
On the one hand, the behavior of users will change significantly, on the other hand, products will become smarter, more networked and more efficient and thus become integrated product systems (System of Systems). New technologies will be developed ever faster - increasingly in development cooperations, interdisciplinary teams and partnerships in order to exploit synergies or to enable the development of system solutions in the first place. Fast and flexible startups as technology providers as well as open source communities are gaining more and more importance and are becoming an essential part of product engineering.
For many users, product innovation will possibly even have a higher priority than product quality. However, digitization does not only mean that development processes are very strongly software-driven. It is essential to consider the topic of product engineering in an integrated manner (e.g., with production technology). The validation of products and product systems is taking on an increasingly important role or is crystallizing as one of the greatest challenges in product engineering. In the case of automated driving, for example, it can be observed that many technological problems have already been solved, but the final validation and the associated release represent a major hurdle.
Therefore, Prof. Düser's research focuses on methods and processes for validation-driven product engineering.
SGE - System Generation Development
X-in-the-loop methods for validation of systems-of-systems
Advanced systems engineering methods in product engineering and validation
Methods and processes for virtual validation of highly automated vehicles with special focus on environment, infrastructure, human and sensor technology
Trustworthiness and credibility of cyber-physical and virtual validation methods
Metaverse-based approaches in system generation development (industrial metaverse)
Update and upgrade capability of software-driven, mechatronic products

current functions
| | |
| --- | --- |
| Since 2022 | Program Committee International Symposium on Development Methodology |
| Since 2020 | Member of the core team of the Sub Group 2 "Simulation & Virtual Testing" within the informal working group of VMAD (Validation Method for Automated Driving) of the UNECE |
| Since 2020 | Technical Leadership Committee Member & Workgroup Lead at the International Alliance for Mobility Testing & Standardization (IAMTS) |
Awards and Honours
| | |
| --- | --- |
| 2017 | AVL Instrumentation and Test Systems Innovation Award, prize for innovative solutions in the field of instrumentation and test systems, awarded annually within the global AVL Group (team award) |
| 2013 | Wolfgang-Beitz Prize for the dissertation, Scientific Prize of the Society for Product Development (WiGeP), biennial award for doctoral theses with outstanding engineering relevance and high innovative content |
| 2011 | CTI Young Drive Experts Award for the dissertation, prize for outstanding scientific work in the field of transmissions and drive development (under the patronage of the Federal Minister of Economics and Technology) |
| 2007 | Fritz Weidenhammer Award for outstanding implementation and organization of the "MKL Workshops", Teaching Award of the Faculty of Mechanical Engineering at KIT for excellent teaching (team award) |
Universtiy Education
| | |
| --- | --- |
| 2000-2005 | University of Karlsruhe (TH) Studies in Mechanical Engineering, graduated as: Dipl.-Ing. |
Scientific Degrees
| | |
| --- | --- |
| 2000-2005 | Doctorate with distinction: Institute for Mechanical Design, University of Karlsruhe (TH) |
Professional Experience
| | |
| --- | --- |
| 10/2022 - present | Professorship for Product Development and Drive Systems at the Karlsruhe Institute of Technology (KIT) and Institute Director (collegial) at the Institute for Product Development (IPEK) at Karlsruher Insitute of Technology (KIT) |
| 2011-2022 | AVL Group, a leading global mobility technology company for development, simulation and testing in automotive and other industries Retired as Site Manager and Head of ADAS/AD Virtual Testing Solutions. |
| 2005-2010 | Research assistant, at the Institute for Product Development (IPEK), Karlsruhe Institute of Technology (KIT), since 2007 as head of the research group NVH/Driveability |
Patents
| | |
| --- | --- |
| WO2011003956A1 US DE JP EP | Device for generating an additional restoring force at the gas pe-dal and method for the operation thereof |
| WO2015028585A1 AT JP EP CN US KR | Method for simulating cornering |
| WO2019060938A1 AT US KR CN EP | Method and a device for generating a dynamic speed profile of a motor vehicle |
| WO2018046609A1 AT EP US CN JP | Modular test bench for roadworthy complete vehicles |
| AT514006B1AT | Bordsteinlastsimulation |
| WO AT AT523641B1 | System for testing a driver assistance system of a vehicle |
| WO2022183227A1 | Method and system for producing scenario data for the testing of a driver assistance system of a vehicle |
| WO2022183228A1 | Method for testing a driver assistance system of a vehicle |
| WO2022183227A1 | Verfahren und System zum Erzeugen von Szenariendaten zum Testen eines Fahrerassistenzsystems eines Fahrzeug |