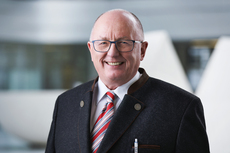 Univ.-Prof. Dr.-Ing. Dr. h. c. Albert Albers
Head of Institute

IPEK – Institute of Product Engineering Karlsruhe Institute for Technology (KIT)

office hours:

nach Vereinbarung

room:

802, Geb.10.23

phone:

+49 721 608 42371

fax:

+49 721 608 46051

info-albers∂ ipek kit edu
Univ.-Prof. Dr.-Ing. Dr. h. c. Albert Albers
Profile
Univ.-Prof. Dr.-Ing. Dr. h. c. Albert Albers was born in 1957 and has been Professor and Head of IPEK – Institute of Product Engineering at the Karlsruhe Institute of Technology since 1996. He obtained his doctorate degree in 1987 under Prof. Paland at the Institute of Machine Elements and Engineering Design. Before Prof. Albers started his position in Karlsruhe he served as Head of the Development Department and as deputy member of the Executive Board. He is a founding member and chairman of the Scientific Association for Product Engineering (WiGeP) and a member of the National Academy of Science and Engineering (acatech). Since 2008 he is president of the Allgemeiner Fakultätentag (AFT e. V.), the German General Faculty Association. From 2012 to 2015 Prof. Albers was the spokesman and review board member of the DFG Review-Board 402 (Mechanics and Constructive Mechanical Engineering). Along with his commitment to the Association of German Engineers, he serves on Advisory Boards of a number of companies. For his excellent accomplishments and expertise in science, research and education in technical and scientific areas, he and the IPEK-Team received the Honorary Award 2016 of the Schaeffler FAG Foundation.
Research
Prof. Albers' fundamental research philosophy is the simultaneous research on methods and processes of product engineering combined with the research on synthesis and validation of new technical systems whilst taking into account the significant role of the engineer within the product development process. Only this combination of research on systems, methods and processes enables a validation of the new development methods and processes immediately during projects of system research and to ensure their added value in practice.
Prof. Albers' and his team investigate methods to analyze future market requirements and the innovation process of new product generations in the following research areas:
development and innovation management
product generation engineering
lightweight
methods of embodiment design
validation and NVH of technical systems
drive systems and mobility
tribological systems
clutches and brakes in drive systems
This research portfolio is embraced by three common and essential frameworks which are based on Systems Theory: iPeM – Integrated-Product-engineering-Model, IPEK-X-in-the-Loop-Approach to validate mechatronic systems and PGE – Product Generation Engineering.
Prof. Albers principle to combine high scientific quality and relevance for the application of research results in the industry led to various successful projects and publications. Namely he is the author of more than 1.000 articles in journals, books and proceedings since 1996 with an h-index (Google) of 22. Hence Prof. Albers belongs to the leading 5 % of scientists in the field of product engineering. These achievements are based on three special research fields of the DFG (German research funding organization), more than 25 successful individual proposals, as well as numerous research projects in basic research and applied research in cooperation with industry. Moreover, he served as supervisor of 111 dissertations und further 40 in progress.
Current Functions
Since 2020
Member of the Advisory Board VDI-GPP FB7 Product Development and Mechatronics
Since 2020

Member of the expert committee VDI/VDE-GMA 7.10 "Planung und Entwicklung hybrider Leistungsbündel" (Planning and development of hybrid service bundles)

Since 2020
Deputy spokesman of acatech – National Academy of Science and Engineering
Since 2019

Member of the National Platform Future of Mobility (NPM)

Working Group 2: Alternative Propulsion Systems and Fuels for Sustainable Mobility
Since 2018
Member of the Advisory Board of Leichtbau BW GmbH: Agency for Lightweight Construction Baden-Wuerttemberg
Since 2018
Member of the Advisory Board of twopillars
Since 2015
Executive director of the KCT – KIT Campus Transfer GmbH
Since 2015
Member of the Advisory Board of the Design Society
Since 2009

Member of the Advisory Board of Brand Group, Anröchte (Germany)

Since 2009

Member of the Advisory Board of the University of Applied Sciences Kaiserslautern

Since 2009
Curator of the Offenburg University of Applied Sciences
Since 2009

Expert for AiF (German Federation of Industrial Research Associations)

Since 2008
President of the Allgemeiner Fakultätentag AFT e. V., the German General Faculty Association
Since 1996

Professor for Mechanical Design and Product Engineering as well as

Head of IPEK – Institute for Product Engineering at Karlsruhe Institute of Technology (KIT)
Functions and Memberships
| | |
| --- | --- |
| 10/1986 - 12/1988 | Position as Senior Engineer at the Institute of Machine Elements and Engineering Design at the University of Hannover |
| 04/1987 - 12/1988 | Member of the Academic Council |
| Since 01/1996 | Professor for Mechanical Design and Product Engineering as well as Head of IPEK – Institute for Product Engineering at Karlsruhe Institute of Technology (KIT) |
| 1998 - 2004 | Deputy Head of Institute of Ceramics in Mechanical Engineering at the University of Karlsruhe |
| Since 2003 | Member of the Gesellschaft ür Tribologie e.V. |
| 2006 - 2014 | Member of the Advisory Board of Freudenberg New Technology SE & Co |
| Since 2006 | Member of the American Society of Mechanical Engineers (ASME) |
| Since 2008 | President of the Allgemeiner Fakultätentag AFT e. V., the German General Faculty Association |
| Since 2009 | Member of the Advisory Board of Brand Group, Anröchte (Germany) |
| Since 2009 | Expert for AiF (German Federation of Industrial Research Associations) |
| Since 2009 | Member of the Advisory Board of the University of Applied Sciences Kaiserslautern |
| Since 2009 | Curator of the Offenburg University of Applied Sciences |
| Since 2011 | Founding member and Chairman of the Scientific Association for Product Engineering (WiGeP) |
| 2012 - 2015 | Spokesman and Review Board Member of the DFG Review-Board 402 (Mechanics and Constructive Mechanical Engineering) |
| Since 2015 | Member of the Advisory Board of the Design Society |
| Since 2015 | Executive director of the KCT – KIT Campus Transfer GmbH |
| Since 2017 | Deputy spokesman of acatech – National Academy of Science and Engineering |
| Since 2017 | Member of the Advisory Board of Müthing GmbH |
| Since 2018 | Member of the Advisory Board of Leichtbau BW GmbH: Agency for Lightweight Construction Baden-Wuerttemberg |
| Since 2018 | Member of the Advisory Board of twopillars |
| Since 2019 | Member of the National Platform Future of Mobility (NPM)Working Group 2: Alternative Propulsion Systems and Fuels for Sustainable Mobility |
Education and Professional Career
09/1983

Studies in Mechanical Engineering, University of Hannover, Germany,
Graduation with distinction

11/1987

Doctoral degree in Mechanical Engineering (summa cum laude), University of Hannover, Germany (Prof. Dr.-Ing. E.-G. Paland)

01/1989 - 12/1995

Joined LuK GmbH & Co. OHG, Bühl (Germany), a leading manufacturer of clutch systems, torsional vibration dampers and gear systems in the automotive industry

Resigned in 1995 as Head of Product Development Department for clutch systems and torsional vibration dampers and deputy member of the executive board

2000

Honorary Doctorate of the Technical University Baku, Azerbaijan

Since 2005
Member of acatech – National Academy of Science and Engineering
Since 2005
Member of the Board of Trustees of Offenburg University

Since 2007

Visiting Professor at Chinese German Graduate School (CDHK) of Tongji University in Shanghai

Since 2008

Visiting Professor at Shanghai Jiao Tong University (SJTU)

2016

Schaeffler FAG Foundation Honorary Award 2016 for excellent accomplishments and expertise in science, research and education in technical and scientific areas
Important research projects
| | |
| --- | --- |
| Since 2016 | EU-Project S2S – Science2Society |
| Since 2016 | EU-Project ALLIANCE |
| Since 2011 | DFG SPP1551 – Optimization of tribological systems through specifically upstreaming the running-in phase for machining process using the example of friction bearings |
| 2012 - 2015 | BMBF IN² - From information to innovation |
| 2001 - 2012 | SFB 588 – Learning and cooperating humanoid robots |
| 2000 - 2011 | Spokesman of the DFG Collaborative Research Center 483 "High performance sliding and friction systems based on advanced ceramics" |
| 2000 - 2011 | SFB 499 – Development, production and quality assurance of primary shaping of microsystems from metallic and ceramic materials |
| Since 2015 | GRK2078 – Integrated engineering of continuous-discontinuous long fiber reinforced polymer structures (CoDiCoFRP) |
Patents
| | |
| --- | --- |
| DE-4433467-C2 | Torsionsschwingungsdämpfer |
| DE-19631725-A1 | Mechanische Sicherung für Bauteile |
| DE-10222973-A1 | Zugmittel in CVT-Getrieben |
| DE-19522718-A1 | Im Zusammenhang mit einer Reibungskupplung wirksame Drehmomentübertragungseinrichtung |
| DE-4214655-A1 | Wälzlager |
| DE-4420934-A1 | Drehmomentübertragungseinrichtung |
| DE-4121016-A1 | Vorrichtung zur Kupplungsbetätigung |
| DE-4406826-A1 | Schraubenfeder |
| DE-4420592-A1 | Deckel für eine Reibungskupplung |
| DE-102011113468-A9 | Batterie und Verwendung einer Kontaktvorrichtung |
| DE-4206921-B4 | Einrichtung zum Dämpfen von Drehschwingungen |
| DE-102011113467-A1 | Elektrischer Ableiter, elektrische Speicherzelle und elektrische Batterie |
| DE-10006284-A1 | Schaltbare Reibungskupplung |
| US-5681221-A | Torsional vibration damper |
| GB-2315316-A | Torque transfer apparatus |
| GB-2312945-B | Torque transfer device |