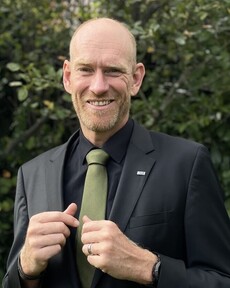 Univ.-Prof. Dr.-Ing. Sven Matthiesen
Chair of Power Tools and Machine Elements

office hours:

nach Vereinbarung

room:

811, Geb. 10.23

phone:

+49 721 608 47156

fax:

+49 721 608 46051

sven matthiesen∂ kit edu
Univ.-Prof. Dr.-Ing. Sven Matthiesen
Univ.-Prof. Dr.-Ing. Sven Matthiesen has been Head of Institute at IPEK - Institute of Product Engineering - Chair of Power Tools and Machine Elements since 2010.
Functions
Research profile
Based on his extensive practical experience in power tool development and the management of multidisciplinary development areas, the research focus of Univ.-Prof. Dr.-Ing. Sven Matthiesen is on the research and development of methods and processes to support product development of human-machine systems.
Prof. Matthiesen conducts research on human-machine systems (MMS), mechatronic machine elements and system reliability (MME). In addition to the validation and testing of mechatronic systems, the use of AI methods and the exploration of machine elements in a system context, the interaction of technology with humans is the focus of research here. Another subject he focuses his research on is the design methodology (KM), which deals with the exploration of the mental design process, as well as the development of design methodologies.
Central to his teaching activities is the development of new training concepts to increase synthesis competence in integrated product development. Furthermore, he is advancing the topic of research-based teaching, whereby he uses his activities in mechanical design to explore the thinking and design process of the emerging mechanical designer. His courses are components of the "Karlsruhe Teaching Model of Product Development - KaLeP", which is an integrated training system oriented to the development process in practice and conveys product development competence.
Statements about Design Engineering and Development
Awards and Honours
Faculty Teaching Award 2015 for Excellent Teaching at the Faculty of Electrical Engineering and Information Technology

Fritz Weidenhammer Award for Excellence in Teaching 2012

Martin Hilti Innovation Award 2008

Wolfgang Beitz Award 2008

FAG Foundation's Innovation Award 2004
Curriculum Vitae
| | |
| --- | --- |
| Name: | Uni.-Prof. Dr.-Ing. Sven Matthiesen |
| Date of Birth: | 20th January 1971 |
| Place of Birth: | Gronau (Westphalia) |
| Nationality: | German |
| Marital Status: | married, two children |
University Education
1991 - 1997

University of Karlsruhe (TH)
Studies in Mechanical Engineering, graduated as: Dipl.-Ing.
Scientific Degrees
2002

Doctorate with distinction;
Institute for Mechanical Design, University of Karlsruhe (TH)
Professional Experience
| | |
| --- | --- |
| 06/2010 – present | Head of Institute and Professorship for Power Tool and Machine Elements at IPEK - Insitute of Product Development at Karlsruher Insitute of Technology (KIT) |
| 2013 | Offer for a professorship for Product Development and Machine Elements (pmd) at the Technical University of Darmstadt (declined) |
| 2008 | Offer for a professorship for Design Technology at Saarland University (declined) |
| 2003 - 2010 | HILTI Corporation, Schaan, Principality of Liechtenstein, started out as a design engineer in device development, his last position was Head of Development in the field of bolt technology |
| 2000 – 2002 | Professor at the Technical University in Sofia (Bulgaria) for the subject "Mechanical Design I to III" |
| 1997 – 2002 | Research assistant at the Institute for Mechanical Design and Automotive Engineering, work group "Development methodology and development management" |